SUBMIT PROPOSALS FOR JAIPUR INVESTING ROUND 2018 to SANJAY@VALUEOPTIM.COM
MEETINGS ARE BEING SCHEDULED FOR MAY 2019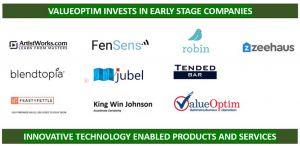 ValueOptim has pioneered the Equity Based Partnership model to support start-ups with much-needed resources.
Many aspiring entrepreneurs in USA and India today have innovative ideas. However, execution due to the combination of factors has been a tremendous challenge.
 Challenges
Infrastructure and Employee costs are extremely high as compared to the salaries.
Lack of sustainability is the single most reason why most start-ups fail.
Limited resources and support.
---
Solutions
The solutions are limited
Invest personal and family savings in the business
Seek to fund from angel investors or financial institutions
Reducing expenses significantly to sustain the business for a longer period.
---
Equity Based Partnership as an Attractive Solution
Limited Equity partnership from ValueOptim is the answer for several start-ups trying to scale with a limited budget. Our model today is helping several start-ups by providing the infrastructure support in return for equity. We are different than Angel investors or financial institutions as we work with the notion of "trust" and like you to be in control of your business to scale it in alignment with your vision. Several ways we have helped start-ups include:
Resource support and  ValueOptim services
Infrastructure support to conduct business
Advisory and network support for your business
ValueOptim funding to selected firms
Equity partnership model provides for a mutual commitment avenue. We strive to be partners in your success.
---
Process 
Submit application with high-level business plan
Present the detailed business plan to the ValueOptim Advisory Board
Provide requested clarifications and supporting information
Receive decision with-in 30 days with a formal proposal of our mutual commitments.
Calibrate the offer and start the execution.
We strive to make it a win-win and welcome you for an opportunity to work with ValueOptim.
---